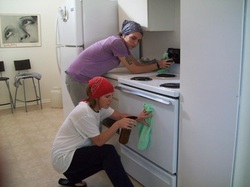 Eco and Pet Friendly Home Cleaning Services
with a smile

Initial Cleanings
***25% Off***
ALWAYS


We specialize in prioritizing your needs from
super tough & crazy jobs to
detail cleaning and finishing touches.
You are the Diva in this scenario.
Get what YOU want, how YOU want it.
Pets? Children?
No problem.
If they don't mind us we don't mind them.
They are more than welcome to hang out with us.
We enjoy the company.
Appointments book fast!
I can brag all day long about us but see what others are saying on
YELP!
Don't forget to look at the filtered reviews.... they are really good too!
If you have already had the Diva Clean experience feel free to leave a review.
Every little bit helps and is greatly appreciated.